Plastic Conveyor System

Our plastic conveyor system offers flexibility both vertically and horizontally making the most of your floor space.  We can offer small radius turns that reduce the conveyor length required for your manufacturing process. Our Teflon Infused Acetyl chains with radial flexibility are segmented links that can be used for challenging applications. We offer options for chain styles such as high temperature, friction, gripping and more to ensure they best fit your process.
Our plastic modular belts are ideal for minimizing the manufacturing space in your facility while meeting the goals of throughput and gentle product handling. As the Master Distributor of Carryline equipment in North America, we understand the importance of highly efficient equipment, and we provide just that.
Our plastic conveyors offer low-wear, low-maintenance and low-failure transportation.
Other Products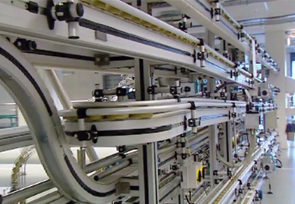 All of our aluminum and stainless steel conveyors come in a variety of designs; some of them include spiral conveyors, side grip conveyors, top grip conveyors, and alpine conveyors. All of our conveyors offer space-saving and reliable options for your manufacturing facility. With our wide range of durable modular conveying options, we offer conveying solutions for many industries.
We also offer lift gates, pin stops, traffic cops, and a wide variety of other accessories to ensure to control your product as needed for your manufacturing process.
Our turnkey systems are completely customized to fit your specific manufacturing process.  All of our systems are designed with your safety in mind, as we prioritize the protection of your most valuable asset, your employees.
Why Choose Carryline USA?
As one of the industry leaders, we here at Carryline USA pride ourselves on always going beyond your expectations.  We are confident that our knowledgeable staff has what it takes to assist you in the set-up of your new facility, for upgrading, or expanding your current facility.
If you have a conveyor need, we have the solution using our conveyor chain, or with other conveyor belt options. Contact us today and let us help your company design and build a system that will efficiently move your product, while leaving a minimal footprint in your facility.